Jharkhand Bed Syllabus 2023:- क्या आप भी इस बार Jharkhand B.Ed में एडमिशन लेने के लिए Application Form Apply किए हैं और Entrance Exam की तैयारी में लगे हैं तो यह पोस्ट  केवल आपके लिए ही खासकर तैयार किया गया है, जिसमे हम आपको Jharkhand Bed Syllabus 2023 और Jharkhand Bed Exam Pattern 2023 के बारे में पूरी जानकारी प्रदान करेंगे ताकि आप अपनी Entrance Exam की तैयारी अच्छे से पूरी कर सकें और प्रथम प्रयास में सफलता प्राप्त करके अच्छे सरकारी कॉलेज में दाखिला ले सकें।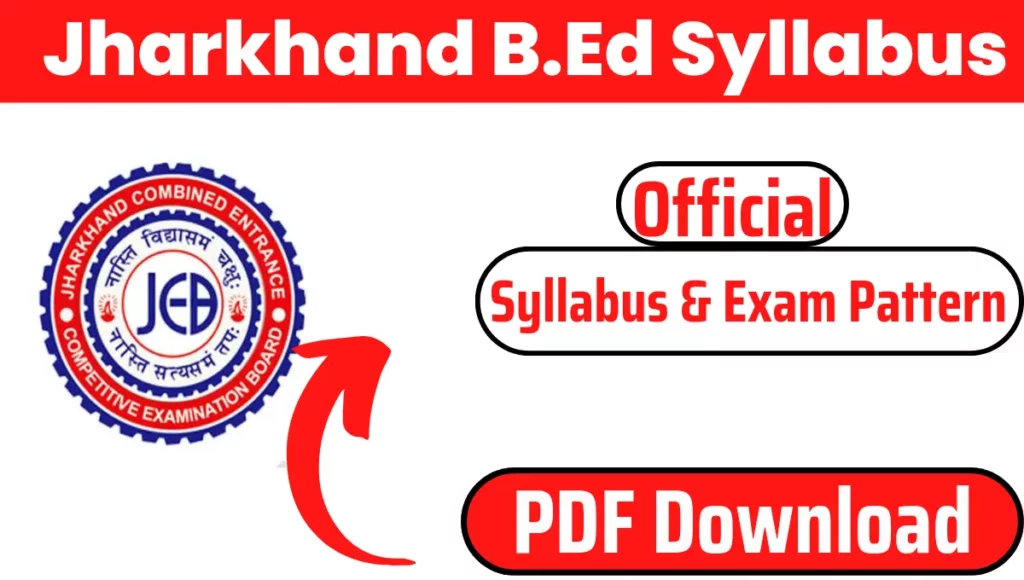 इस पोस्ट को अंत तक पढ़ने के बाद B.Ed Entrance Exam Syllabus & Exam Pattern की पूरी जानकारी प्राप्त हो जाएगी। इसलिए पोस्ट को अंत तक जरूर पढ़े
Jharkhand Bed Syllabus 2023 PDF
Jharkhand Combined Entrance Competitive Examination Board (JCECEB) के द्वारा 2023- 2025 शैक्षणिक सत्र के लिए Entrance Exam आयोजित करने और Syllabus जारी करने की जिम्मेवारी दी गई है। जिसके बाद बोर्ड ने New Exam Pattern & Syllabus जारी कर दिया है। अतः हम सभी उम्मीदवारों व अभ्यर्थियों को सलाह देते हैं कि आपको JCECEB Bed Syllabus 2023 और Exam Pattern की जानकारी अवश्य प्राप्त कर लेनी चाहिए। 
| | |
| --- | --- |
| Exam Name | Jharkhand Bed Entrance Competitive Examination |
| Board Name | JCECEB |
| No Of Questions | 100 |
| Exam Date | 23.04.2023 |
| Category | Admission |
| Official Website | https://jceceb.gov.in |
Jharkhand Bed Exam Pattern 2023
तो चलिए हम आपको सबसे पहले Jharkhand Bed Exam Pattern 2023 की जानकारी प्रदान करते है जो इस कुछ प्रकार है :-
परीक्षा पेन पेपर माध्यम (Offline Mode) से आयोजित किया जायेगा.
परीक्षा में कुल 100 प्रश्न पूछे जायेंगे.
परीक्षा का प्रश्न बहुवेकल्पिक (MCQ) होंगे, जिसका उत्तर OMR Sheet पर देना होगा.
प्रत्येक प्रश्न 1 अंक का होगा.
प्रत्येक गलत जवाब के लिए 0.25 अंक काट लिया जायेगा.
| | | |
| --- | --- | --- |
| Subject | No Of Questions | Marks |
| Language Proficiency (Hindi+English) | 15+15 | 30 |
| Teaching Aptitude | 40 | 40 |
| Reasoning Ability | 30 | 30 |
| Total | 100 | 100 |
Jharkhand Bed Syllabus 2023 (Subject Wise)
Exam Pattern की जानकारी प्राप्त करने के बाद आइए आपको Jharkhand Bed Entrance Exam Syllabus 2023 के सभी विषयों से परिचित कराते है जो Entrance Exam पास करने में आपकी मदद करेगा।
1 . Language Proficiency
Comprehension
Rearranging sentences
Selecting suitable words for the blanks
finding out errors in parts of the sentences
finding out equivalent meaning to the given phrases
finding out suitable words for the incomplete sentences
sequencing
Grammar (Synonyms, Idioms, Prepositions, Tenses, Articles)
2. Teaching Aptitude
Attitude towards education
Children and teaching profession
Interest in teaching
Leadership qualities & group management
Emotional & social adjustment
Intrapersonal & interpersonal skills
General awareness of contemporary issues pertaining to school education
3. Reasoning Ability
Verbal & non­ verbal reasoning
Missing numbers
Number series
Letter series
Theme finding
Jumbling
Analogy
Odd one out
Arranging the statements in a sequential form
Statement and conclusion
Syllogism
Logical problems
Establishing relationships and numerical ability
Preparation Tips For Jharkhand Bed Entrance Exam 2023
परीक्षा में अच्छा अंक प्राप्त करने के लिए सबसे पहले सिलेबस को पूरा करें.
पिछले 5 वर्षों के Questions Paper को हल करने का प्रयास करें.
मॉक टेस्ट देने का प्रयास करें और अपने कमजोर विषय की पहचान करके उसे Improve करें.
एक टाइम टेबल बनाएं और उसे फॉलो करते हुए ज्यादा समय कठिन विषयों पर दें.
पढ़ाई के साथ साथ 2 घंटे के बाद आपने दिमाग को फ्रेश करने के लिए छोटा-छोटा ब्रेक ले साथ में एक अच्छी नींद जरूर ले.
How To Download Jharkhand Bed Syllabus PDF 2023?
Goto Important Link Section.
Click On Jharkhand Bed Syllabus PDF button
Now Jharkhand b.Ed Syllabus 2023 has been downloaded in pdf file in your mobile or computer.
Now save or print out this PDF file.
Important Link Section
FAQ
How to Download Jharkhand B.Ed Syllabus?
To Download Jharkhand bed Syllabus & Exam Pattern Visit www.jobjharkhand.in
When the Jharkhand b.Ed Entrance Syllabus release?
Jharkhand b.Ed Syllabus is released by JCECEB before the entrance exam.
How many subjects are there in Jharkhand b.ed exam syllabus?
Jharkhand BEd Entrance Exam Syllabus consists of three subjects
What is the official website of Jharkhand B.Ed?