Latest Jharkhand Government Jobs 2023
Jharkhand Jovt Jobs 2023: Here you can find all the latest Govt Jobs in Jharkhand. We have created this article for the candidates who are all fighting to get Sarkari Naukri in Jharkhand. All kinds of employment news in Jharkhand shall be updated regularly on this page. Jharkhand Govt Job Vacancy 2023 | Govt Job In Jharkhand 2023 |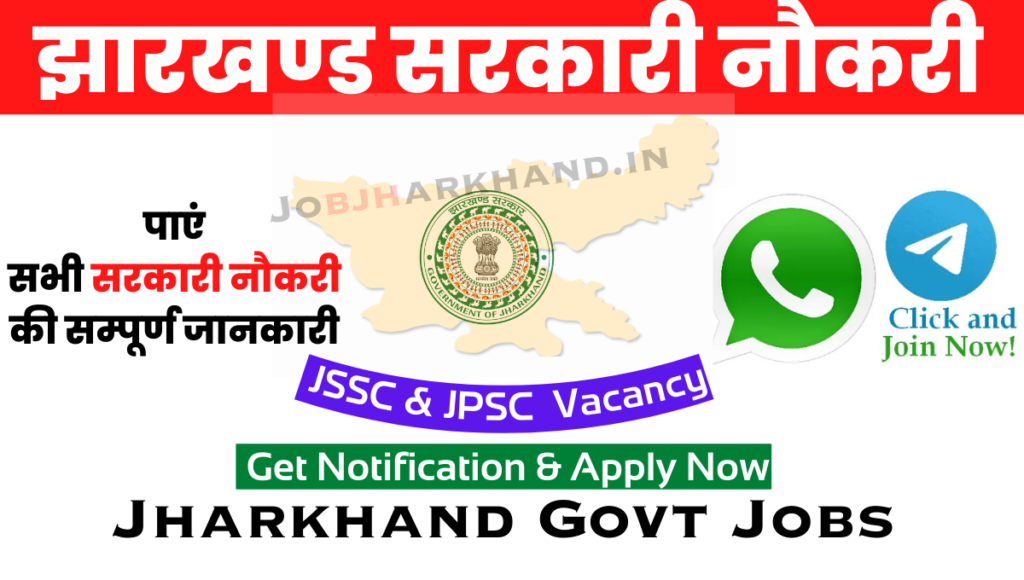 Sarkari Naukri in Jharkhand
Are you looking for government jobs in Jharkhand then your search will end after reading this post. Because in this post, all the government jobs issued by the Jharkhand government have been explained in detail. You have been given information about the Jharkhand vacancy 2023 10th pass, sarkari naukri in Jharkhand 12th pass, Graduate pass vacancy in Jharkhand 2023, ITI Pass Vacancy in Jharkhand.
Various Govt Job Opportunities in Jharkhand
Jharkhand is known for its rich mineral resources and vibrant culture, which has a lot of opportunities for government employment. Let us look at some of the major sectors where government job opportunities are offered.
Public Service Commission (PSC) Jobs
Railway Jobs
Banking and Finance Jobs
Health and Medical Services Jobs
Teaching and Education Jobs
Agriculture Jobs
Mining Jobs
Jharkhand Upcoming Vacancy 2023
Thousands of Jharkhand government jobs notifications will be released in this year under JPSC and JSSC. Jharkhand Government has released many recruitment notifications while many vacancy notifications will be released soon, whose information will be given in this post. Jharkhand Government Upcoming Vacancy 2023 | Jharkhand JSSC New Vacancy 2023 | JSSC JPSC Upcoming Vacancy 2023
झारखण्ड सरकारी नौकरी 2023
झारखंड सरकार ने विभिन्न विभाग में रिक्त पदों को भरने के लिए कई Govt Job Notification जारी किया है। झारखंड राज्य के बेरोजगार अभ्यर्थी अगर आप झारखंड सरकारी नौकरी 2023 का इंतजार कर रहे हैं तो इस पेज को प्रतिदिन Visit करते रहें क्योंकि Website पर सरकार द्वारा जारी सभी नौकरी का संपूर्ण अपडेट किया जाता है। Latest Jharkhand Govt Job की नोटिफिकेशन लिए ऊपर में दिया गया।
इसके अलावा हम आपको यहां पर ब्लॉक स्तर और Jharkhand Rojgar Mela 2023 रिक्ति से जुडी सभी जॉब्स अपडेट लिखते रहते हैं
Jharkhand Block Vacancy 2023
Jharkhand Government Jobs Recruitment Board releases 6 to 8 lakh jobs every year, in which most of the jobs are government jobs. We will tell you the latest recruitment news coming out in Jharkhand and all the information related to Jharkhand Block Vacancy 2023
Jharkhand 10th/12th/ ITI/Diploma/Graduate Pass Govt Job Vacancy
The government of Jharkhand publishes notifications of government jobs in different departments for 10th pass, 12th pass, ITI pass, diploma pass, and graduate pass candidates. With the help of this article, you can find a government job according to your qualification.
FAQ Jharkhand Government Jobs 2023
झारखंड में कौन कौन सा फॉर्म निकला है 2023?
JSSC JE Vacancy
JSSC CGL Vacancy
JPSC CDPO Vacancy
JPSC MO Vacancy
JSSC Nagar Palika Vacancy
JSSC JIIOCE Vacancy
झारखंड पुलिस का फॉर्म कब निकल रहा है?
झारखण्ड पुलिस का फॉर्म अगस्त सितम्बर में आयेगा.
जेपीएससी 2023 का फॉर्म कब आएगा?
जेपीएससी 2023 का फॉर्म सितम्बर में आ सकता है.
झारखंड सचिवालय का फॉर्म कब आएगा?
झारखंड सचिवालय का फॉर्म आ चूका है इसके लिए ऑनलाइन आवेदन 20 जून से 19 जुलाई 2023 तक कर सकते है.
How can I apply online for Jharkhand govt jobs?
You can apply online for Jharkhand government jobs with the help of the official website of JSSC and JPSC.
What is the age limit of Jharkhand government jobs?
Different age limits are fixed for Jharkhand government jobs.
Jharkhand Vacancy 2023 10th Pass कब आयेगा.
दसवीं पास अभ्यर्थी के लिए झारखण्ड में कई Vacancy जारी किया गया है जिसे JSSC and JPSC की ऑफिसियल वेबसाइट पर देख सकते है.