Jharkhand B.Ed Online Counselling & Seat Allotment List 2021: Jharkhand Combined Entrance Competitive Examination Board will release the notifications for the 4th round of online Counselling & seat allotment list for admission in B.Ed. After releasing the merit list, the registration process will start for the 4th round of Counselling from 5 March 2022 to 08 March 2022. Students whose name has appeared in the merit list can read the official notification and apply for counselling online.
If you want to apply for these posts, then detailed information is provided in this post. After reading this post and any problem that arises after applying, you can comment and ask, all comments will be answered.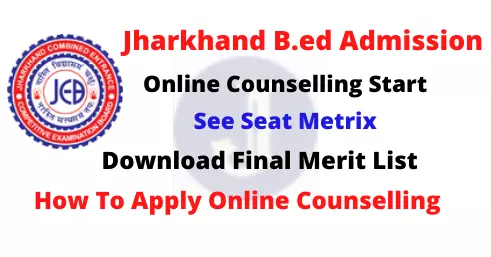 झारखंड कंबाइंड एंट्रेंस कॉम्पिटिटिव एग्जामिनेशन बोर्ड (JCECEB) ने B.Ed में एडमिशन के लिए ऑनलाइन काउंसलिंग की अधिसूचना प्रकाशित कर दी है। जो उम्मीदवार इस परीक्षा में रुचि रखते हैं, वे आधिकारिक अधिसूचना पढ़ सकते हैं और B.Ed प्रवेश 2021-2023 के लिए ऑनलाइन काउंसलिंग आवेदन कर सकते हैं.
Jharkhand B.Ed Online Counselling Time Table
| Activities | 1st Round | 2nd Round | 3rd Round | 4th Round |
| --- | --- | --- | --- | --- |
| Publication of Final State Merit List | 14.10.2021 | – | 03.01.2022 | — |
| Online Counselling Start Date | 16.10.2021 | 21.11.2021 | 05.01.2022 | 05.03.2022 |
| Online Counselling Last Date | 20.10.2021 | 26.11.2021 | 12.01.2022 | 08.03.2022 |
| Issue Of Provisional Seat Allotment Letter | 25.10.2021 to 30.10.2021 | 1.12.2021 to 8.12.2021 | 17.01.2022 to 22.01.2022 | 11.03.2022 to 16.03.2022 |
| Document Verification And Admission | 25.10.2021 to 30.10.2021 | 1.12.2021 to 8.12.2021 | 17.01.2022 to 22.01.2022 | 11.03.2022 to 16.03.2022 |
Jharkhand B.Ed Online Counselling 2022 Details
| | |
| --- | --- |
| Post Name | Jharkhand B.Ed Admission Online Counselling 2021-2023 |
| Application Process | Online |
| Authority | Jharkhand Combined Entrance Competitive Examination Board (JCECEB) |
| State | Jharkhand |
| Course Duration | 2 Years |
| 4th Round Counselling Start Date | 05 March 2022 to 08 March 2022 |
| Official Website | http://jceceb.jharkhand.gov.in/ |
Jharkhand B.Ed 4th Round Counselling Notice

Jharkhand B.Ed 3rd Round Counselling Notice

Jharkhand B.Ed 2nd Round Counselling Notice

Jharkhand B.Ed 1st Round Counselling Notice

Jharkhand B.Ed Online Counseling Process
B.Ed में कांसलिंग की प्रक्रिया मुख्यत 3 चरण में पूरा किया जाता है जो निचे स्टेप बाई स्टेप दर्शाया गया है|
Realese Merit List : काउन्सलिंग की शुरुआत फाइनल मेरिट लिस्ट जारी करने के साथ होता है जिसको JCECEBE की आधिकारिक वेबसाइट पर अपलोड किया जाता है| सेसन 2021 -2023 का फाइनल मेरिट लिस्ट 14 अक्टूबर 2021 को प्रकाशित किया गया |
Registration And Choice Filling : जिन उम्मीदवार का नाम मेरिट लिस्ट में है वे नामाकन प्रक्रिया में भाग ले सकते है वे ऑनलाइन पंजीकरण कर सकते है Registration Form बोर्ड की वेबसाइट पर उपलब्ध है उम्मीदवार जिस कॉलेज में नामाकन लेना चाहते है वे अपने पसंदीदा कॉलेज का चयन कर सकते है| उसके बाद बोर्ड की ऑफिसियल वेबसाइट पर पंजीकृत छात्रो को सीट आवन्टन किया जाता है सीट का आवन्टन उमीदवार की योगता, आरक्षण निति, अवेलेबल सीट जैसे अन्य फैक्टर के अनुसार प्रकाशित किया जाता है
Document Verification & Reporting Collage : सिट आवंटन के बाद छात्रो को Allotment Lettar में दिए गए Date और कार्यक्रम के अनुसार Collage में उपस्थित होकर अपने Document को वेरीफाई और नामाकन की प्रक्रिया को पूरा कराना होता है|
वैसे उम्मीदवार जो इस ऑनलाइन काउन्सलिंग Round में चुक गए है वे अगले राउंड तक इंतजार करे| अगले राउंड की जानकारी सबसे पहले जानने के लिए www.jobjharkhand.in को फोल्लो करे|

Online Counselling Fee
| | |
| --- | --- |
| Category | Fee |
| General/EWS/BC-1/BC-2 | 400₹ |
| ST/SC/All Female Candidate | 250₹ |
How To Apply Online Counselling for Admission in B.Ed
Go to JCECEB official Website https://jceceb.jharkhand.gov.in/ (Direct link has given below in the important link section)
Click On "Online Counselling for Admission in B.Ed. -2021-2023″
And Create New Registration
Then Login And Fill Up the Form
Finally Pay The Online Fee by Net Banking, UPI, Debit Card
Important Link